It is not necessary to waste time or miss an opportunity by trying to be overly precise. It's better to react naturally. Good targets are the groin, stomach, solar plexus, throat, eyes, the arm, the shin, hip bone, collarbone, ankle, and kneecap.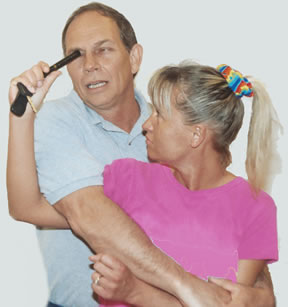 A sharp strike to a bony part of the body will encourage an assailant to stop his attack. A harder, well placed blow can easily break bones--especially if the force of the blow is not hindered by clothing.
The most basic applications involve striking or poking vulnerable areas of the body. Generally speaking, swinging strikes work better against bony surfaces while fleshy areas are more susceptible to pokes and jabs with the ends of the Kubotan.
There is no wrong strike! Just hit as hard as you can the closest body part.
With this concept in mind, a person avoids the confusion and frustration of trying to remember specific strikes for specific targets. Instead, one simply remembers to strike bones and poke soft tissue and pressure points.
The strike does not have to be perfect. Since nerves are close to the surface of most bony parts, even a glancing blow will inflict enough pain to make your assailant think twice about continuing his attack.
You can also use the keys that you have attached. You hold the kuboton and swing the keys. Most effective when you hit the face since there is a higher probability of drawing blood. The keys will scrape into the flesh and cause pain and bleeding. We have a keychain knife based on this principle.
Don't be squeamish! Do you think they care about you at all?
The kuboton is legal and entirely unregulated. To most people, the Kubotan is little more than a nondescript key ring. While it is not particularly intimidating, it remains an effective self defense instrument. It really can save your life.